Specialist Physio – Bike Fit Expert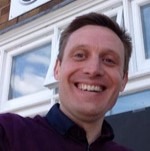 Specialist Physio – Bike Fit Expert
Simon Smith is a well respected physiotherapist within the Yorkshire region and lead therapist for Cycloform providing Physio led bike fitting at Tadcaster Physio & Sports Injuries Clinic. He also works as a clinical specialist within the NHS, taking complex back, hip and knee pain patients whom have failed to improve with usual physiotherapy and General Practitioner management and putting them back on track.
Simon is also an Associate Lecturer at Teesside University, teaching expert practice in the assessment of musculoskeletal dysfunction on their Masters Degree program.
A near obsessive approach to his own cycling with a clear focus on working hard to acquire performance gains has seen Simon dedicate his clinical and academic skills into the field of Bike Fitting.